The title of this post says it all. Don't mistake that yawn for boredom; it's tiredness all the way.
This week started out relatively calm normal, but the 2 four hour conference days at the end just threw everything into craziness and left me worn out.
Thankfully, it is Friday and I have a free weekend ahead of me, except for a fun potluck with friends tomorrow night.
Without further ado, here is my five for Friday.
1. Measuring Length- This week the students and I had a lot of fun comparing lengths and exploring nonstandard measurement. I always enjoy seeing the kids using the different objects to measure. This week, we primarily used paper clips and popsicle sticks for hands-on materials. Then, we practiced with pictures on graph paper. My students had some trouble understanding that they needed to count both the horizontal and vertical sections of lines on the paper. To help them get the concept, I did some extra modelling and then had the kids draw lines of certain lengths. Once they did well with this, they got to draw lines of whatever length for their partner to count. Throughout all of these activities, I liked seeing how well the partners and groups worked together.
2. Conferences- Yesterday and today were our first two conference days. Fortunately, all of them have gone pretty well so far. It's always easy to talk to the parents of kids who are high academically, but I get nervous to share about where students are struggling. I think that the conferences with parents of strugglers went well because I am in constant communication with them anyway, so the only new information to share was the actual report card.
Before conferences, I had the kids do a self-evaluation form. I used this adorable and meaningful one from Lisa at
Growing Firsties
. You can pick one up for FREE at her blog. Just click the picture below.
It was so neat to see what the kids thought about reading, writing, and math, and how they evaluated their behavior. Some answered exactly how I predicted they would, but others surprised me. The parents were also very interested in their children's answers.
3. Author's Visit- Hallie Durand (pen name) author of the Dessert books and Mitchell's License visited our school today! Her son was in my class last year, so I have all of her books. The kids and I both love them and were very excited to hear her presentation. Plus, we got the special opportunity to vote for the title of an upcoming book!
4. We're Going on a Lion Hunt- My firsties got spoiled with extra P.E. today because the teacher wanted to have them practice the awesome obstacle course she made to use for her upcoming observation. Now, I know what some of you might be thinking, is it fair for her to practice her observation? I don't know either way. I chose not to worry about it. I figured it was a half day anyway and the kids would have a good time, so why not. Just this once....
Really, her obstacle course is INCREDIBLE!! She based it on the book, We're Going on a Lion Hunt.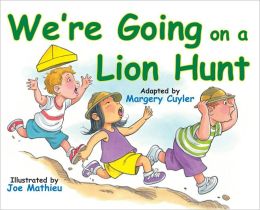 She has the story posted on the wall and reads it as partners go through the various obstacles, which represent mud, sticks, trees, water, grass, and a cave. The kids move through it all in order and then race back through the opposite way after they see the lion! It was so cool to watch!
Mud (balance domes) and sticks
Running through the river.
Swishing through the grass.
Going through the cave.
How's that for a cross-curricular activity? Our P.E. teacher is pretty awesome!
5. Foot Book Bulletin Board- In honor of both Dr. Seuss's birthday and our school CATCH (whole school health program) initiative, I created a bulletin board for The Foot Book. The kids all wrote about how they could move their feet. I also requested pictures of them being active, but did not get too many back. I might ask again.
I know it's Friday, but that's my spring bulletin board idea for Show and Tell Tuesday.
I also sent home Denise's cute "
Lucky Family
" assignment. The shamrocks are due Monday, so I hope to change my other bulletin board then. Here's how hers look.
I hope everyone has a great Friday and a nice weekend!