It's the last Thursday of school! Woo hoo!
I really need to stop focusing so much on how many days are left and start realizing that I am going to be missing my kids soon. However, right now, all I can think is "summer...summer...India...summer..."
I guess I can add, "manipulatives...organization...summer plans to do list..." to that list since I am starting to plan what I want to do to re-organize for next year. That being said, this linky is very timely for me, since it's focus is Manipulative Storage.
Last summer, I actually made organizing my manipulatives one of my big projects and as a result, everything was much better this year than last year. However, I still have some things I want to tweak and try, which you will see later in the post.
For now though, here are my
tricks of the trade
for manipulatives.
Plastic Drawers
As I already posted about in my
Poster Storage and Organization
post, I love Sterilite drawers. They are so handy for storing all kinds of things. This year, I used a set of three thin drawers to store base ten blocks. This worked out quite well because I did not have to dig into different bags or sort through a mix of pieces to grab the ones, tens, or hundreds I needed. Everything was easy to get out and put away as needed.
I also used two bigger stackable drawers to store unifix cubes and dominoes. You can see those on the left of the next picture.
Plastic Containers
This next trick is pretty obvious. Keep everything in organized plastic bins. As you can see here, I have a variety of different types of containers; some are the original buckets that the items came in, others are shoe box size or bigger plastic tubs. I have a million of those in my closet. They are full of anything from spinners to timers to Judy clocks etc.
Now, that's about all I've got at the moment. As I said, my organization is still a work in progress. Therefore, here's some of the Pinspiration I hope to replicate in my classroom.
Pinspiration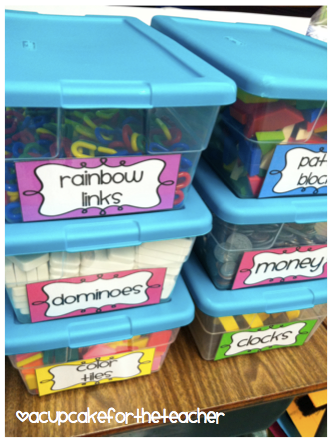 I love these colorful labels from Mrs. Cupcake at A Cupcake for the Teacher. I plan to make or buy labels for my bins soon. Click the picture to read her post.
Mrs. Moore is beyond organized. Her bins and labels are amazing. It's almost too good to be true. I aspire to be this organized and would love to have these stackable bins. Click the picture to see more of her crazy awesome organizational ideas.
What a great way to store place value blocks! I have seen this done in other classrooms in my district during professional development days. I need to find these containers so I can do this myself next year. I pinned this from Janaye at Frogs and Cupcakes.
Seeing how this is the current state of my dice storage, I am aiming to make it much better. I would love to do what Little Miss Kindergarten did.
Aren't those lovely ladies so organized? I can only imagine how they have the time to get everything so neat and cute. I'm going to take things one step at a time and keep researching ideas. Hopefully, you'll link up and share your great ways of storing manipulatives. Grab the button below and join the fun.
Also, be sure to check out Jessica's post over at Joy in the Journey.