Thursday has come again!
The weeks are flying by. Once school got out, I had a few chill days and then life got hectic again.
I started my summer job on Monday and have been spending many of my afternoons helping Jessica pack for Seattle. It's been great to be able to spend so much time with her before she leaves.
Even though she will be far, far away, we both plan to keep Tricks of the Trade going. Speaking of Tricks of the Trade, this week's theme is...
Yes, that's right. We are going there. We are asking you to share about your "Teacher's Desk," that sacred space that belongs just to you. Or more likely, at least in my case, that piece of furniture burried beneath stacks of papers that never seem to find a home.
Yep, I am confessing. I confess that no matter how much I desire to have an organized desk, it always seems to get messy. I start the year with everything neatly in its place and have high hopes for keeping things that way all year. Things go okay for a few weeks, but then the random papers start showing up in my school mailbox. They don't have a home, so they stay on my desk and if it's okay for them to be there, than why can't I leave a pile of master copies in the corner? And so on and so forth.
Let's just say, I convinced my kids that I was NOT the Desk Fairy this year by telling them to look at my desk. "Would the Desk Fairy really tolerate all that clutter?" I think not.
Anyways, now that I have fully confessed that my desk is an atrocity, I will share one trick that I do use that works and then several pictures of the desk of my dreams.
Hanging File Holder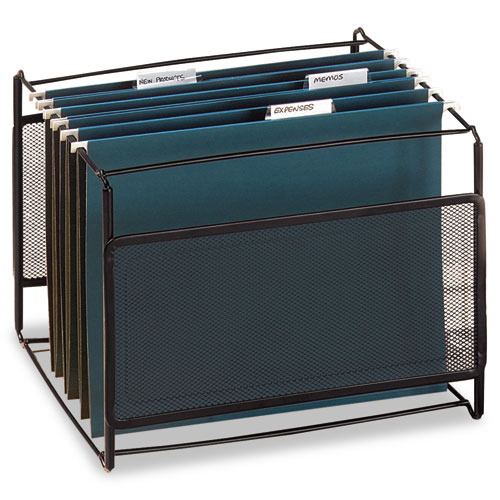 The one thing on my desk that always stays organized is my hanging file holder. This is not the exact one I have, but it's close enough.
The hanging folders in my file are each labeled with the different days of the week. Whenever I make copies for the future, I always put them right into the folder for the day I will use them. I alternate horizontal and vertical stacks, so the different copies don't get mixed. Having everything organized by day helps me so much. When each day comes, I just pull everything I need out and am set to go.
Honestly, that's my only good trick. My desks has a bunch of drawers, which are generally organized by type of thing, but not very neatly. I know where everything is, but nothing is beautifully arranged. It drives me nuts, but I guess it's low enough on my priority list that I don't do much about it during the school year. Perhaps if I have time this August, I will take the initiative and re-organize some of my drawers. Here are some of the amazingly organized desks I found on Pinterest. I dream of having drawers like this, but don't know if it's realistic. :)
Simplified Bee
So, what do you do to keep your desk organized or is it cluttered like mine? If so, no judgment. I just confessed my mess, so you can too! Just share some hopeful Pinspiration for future organization!
Grab the button and link up!
Link up your "Tricks of the Trade" for setting up and organizing your teacher desk in the classroom. If you post, please grab our button and link back to this page!