It's a relaxing Sunday evening after a busy day...
I just discovered that Latoya's awesome linky has returned, and I discovered a brand new linky, so I'm going to join both.
This week's theme is tic-tac-to, so I get to choose to write about any three-in-a-row combo from the following choices.
I'm going to go right across the top row, but I'm going to start on the right cause my college memory is my favorite. I like to save the best for last.
Dream Vacation
I would LOVE to go back to Italy again to spend more time in Florence and Rome, and to explore places I have not been to before like Venice, Pizza, Milan, Pompeii etc. In addition to seeing the sites in the big city, I would hope to have time to spend relaxing in some small towns in Tuscany just enjoying the scenery and soaking up the culture. In an ideal world, all of this would happen with my future husband, whoever he may be, because Italy is SO romantic.
Favorite Subject to Teach
My favorite subject to teach is definitely
writing.
As someone who loves writing, I enjoy sharing my passion with my students and hope that it will be contagious. I want my students to realize that they are authors and that their words have power and meaning. They can persuade, entertain, and inform even at their young ages. I also love reading what my students write. I am always amazed by their creativity! Plus, it's so exciting to see each child grow as a writer throughout the year. I love looking back to compare their first stories to their last to see their progress.
Favorite College Memory*
I went to Liberty University in grand old Lynchburg, Virginia. Throughout my 4 years there, I had many happy, sad, funny, crazy, and unbelievable moments. It was hard to choose what to share on here, but I decided to go with one of the most ridiculous experiences of my college career.
For those of you who do not know, Liberty University was founded by Jerry Falwell. I know people have strong opinions about him, so I am not going to go there. The information you need is that he passed away before I went to school there, so the school was under the leadership of Jerry Falwell Jr., while I was there.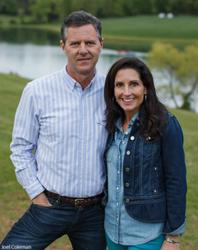 Jerry and Becki Falwell
Enough background. Now, on to the story. One Saturday afternoon, my friends and I decided to do what most Liberty students do on Saturdays...go to Walmart! Talk about fun times. Anyway, on this particular Saturday, I was squished into the middle seat in the back of a car full of girls. We headed out for Walmart and then the driver announced that she needed gas, so we headed to Sheetz.
It was as we filled the tank, that the craziness happened. It started when a
car pulled up to the pump next to us and we realized that the driver was none other than the chancellor, Jerry Falwell Jr.!! We all laughed to see him at the gas station. Then, before we knew what was happening, the passenger door of his car opened, and out flew his wife, Becky Falwell screaming at the top of her lungs, "IT'S LIBERTY STUDENTS!! JERRY!! LOOK!! LIBERTY STUDENTS!!!!"
I have no idea why she was so "surprised" considering we were about 2 minutes from campus. Anyhow, Becki did not stop with the screaming. No, she ran too! She ran with reckless abandon towards our car, opened the back door, and DOVE IN THE BACK SEAT!!
She literally dove across my lap and the laps of the two other girls in the backseat.
I was in shock. Yet, Becki acted as if this was a totally normal experience for her. She sat on my lap and proceeded to ask all of us about how our day was going, where we were going etc. She also scared the driver of the car to death by banging on the window to say "hi" to her while she was pumping gas. The poor girl had no idea who was in her car!
Once our tank was full, Becki crawled out and went back to her own car and Jerry came around and sheepishly asked us if we were going to the basketball game that night. Then, that was that. We both drove off and our days continued as usual, except for the fact that all of us in the car could not stop laughing and asking each other, "Did that really just happen?" Hahaha!
Now that I've shared about that craziness, I am going to share a few snapshots of my life for Miss Nelson's fun Saturday Snapshot Linky Party. I'm a day late, but so happy that I discovered her blog and linky through the Currently, so I wanted to take the chance to link up now.
This isn't a great picture, but it's a great letter from beautiful Aline in Brazil. I always love getting letters from my sponsored kids. It's such a joy to hear about their lives.
I just started reading this book based on a recommendation from my grandma. She suggested I read it before I go to India because it would make me more aware of the horrid conditions and corruption that so many people there are trapped in. I just started it, but I know it's going to be a really somber wake up call.
Here's the mess of stuff I need to pack for India. I hit up Kmart today to get the last of the supplies I needed. Now, I just have to somehow fit all of it and my clothes in my suitcase.
This is the tub full of candy, stickers, tissue paper, and crayons ready to go delight the children in India. Everyone on my team is charged with collecting various different items for crafts, games, and other fun. I can't wait to see the kids' faces when they get into all of the fun and colorful stuff.
Now that my trip is just over a week away, I figured it was time to start my journal. I spent some time yesterday recording the ups and downs of how I was called to go on this trip and then how God changed my plans drastically, but made them His plans, which are always so much better! I hope to fill the rest of the pages with the details of the many adventures I will have in India.
So, that's it for this evening. I thoroughly enjoyed both those linkies. I definitely would recommend that you link up with both Latoya and Miss Nelson.
Also, start thinking about your teacher's desk for this week's Tricks of the Trade Thursday.
Do you even have a teacher's desk? How do you keep it organized? What are your must have supplies?
Be ready to link up to Tricks of the Trade this Thursday!
*Disclaimer: I do not tell this story to represent Liberty University, chancellor Jerry Falwell Jr., or his wife Becki Falwell negatively in any way. I tell it because I think it's awesome that she was crazy enough to do what she did. I think it's great that she is so enthusiastic and I think that both she and Jerry have done a wonderful job of moving Liberty forward and making it a FABULOUS school.