Good evening! I write to you while sitting in my comfy PJs, having never taken them off all day. That's because today was...Pajama Day!!
PJ Day has got to be one of the best perks of being a teacher. That and summer vacation. :-)
Unfortunately, wearing their PJs seems to make the kiddos a bit more bonkers than usual. I left school ready for a nap and nap is what I did.
Now that I am up, I am determined to be productive for the next few hours before I crawl back under the covers again.
This week was a busy, but relatively boring one at school. I was doing the DRA every chance I got and spent a lot of time teaching and reteaching how to make 10 to add.
As a result, I do not have any exciting school-related, 5 for Friday items to share. However, I am going to bring some international flavor to 5 for Friday by sharing some of the most impactful blog posts from the Compassion bloggers.
This past week, several Compassion bloggers headed to Uganda to visit children whose live in the darkness of poverty, yet are wrapped in light because of the difference sponsorship has made for them. Throughout the week, they shared their experiences in words that clamped a fist on my heart.
What are your nightmares made of? Monsters? Dark alleys? Falling from the sky?
Whatever they consist of I'm sure they leave your heart racing and your palms sweaty.

But then, you roll over. You take a few deep breaths. You fall back asleep. All is well again.
For the children living in the slums of Uganda, there is no falling back asleep. The nightmare is when they are awake. It is their lives.
Yet, as
Brianne McKoy
shares, Compassion is a hand that reaches down into the nightmare. It is this hand of hope that allows these children to sing in the midst of a nightmare.
Shaun Groves'
post was a hard one to read. As a passionate Compassion sponsor, I would love to believe that the programs always work. That lives are always changed for the better. That children and parents never turn back to the darkness.
As a realist though, I cannot deny that nothing is one hundred percent successful. Compassion does not always work. Some people stay trapped in the vices that poverty cultivates.
However, as Shaun says, Compassion gives children choices. Yes, they may chose the wrong way, but they have the power to choose. They have options. They have a say.
Just reading about the daily life of Colline and seeing her radiant smile touched my heart. I am sure it will touch yours as well. Be sure to read
Emily's post.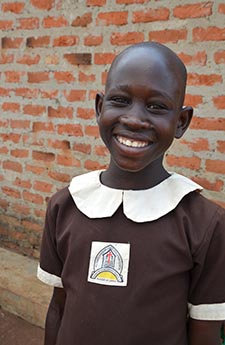 Remember the Kony video? Whether or not that was legit at the time does not matter anymore. What matters is that the LRA has destroyed the lives of thousands of children in Uganda including Grace.
Compassion International
is helping to rebuild these lives one at a time.
"One child connected to one church through one sponsor.
It starts with one."
Read Grace's story as written by Brianne. Warning: You might need some tissues.
The Worst Mistake You Don't Know You're Making
In this post, Jeff Goins tells the story of the beautiful family pictured above. You will never believe what the mother has been through. He also talks about the power of words.
As teachers, we ought to know better than anyone the power of the things we say and write. We teach children that words have power. Words can tear someone down, rip away dignity, and destroy dreams. Or they can express ideas, solve problems, and give encouragement.
Compassion sponsors have the opportunity to use their words to
give hope to children living in poverty.
Though I always knew that, I never believed it so deeply until I read
Jeff's post.
Please take the time to read it and see what a difference you can make.
-----------------------------------------------------------------
Whew. I know that was a lot. Probably more than some of you would like to handle.
But I ask you this...should these kids have to handle what they have been through?
I certainly don't think so. I'm sure you agree.
Since this was a heavy post, I'll end it with some fabulous news. So far,
205 children
have been
sponsored
during blog week!!!
Still, many others in Uganda are still waiting to be given a choice...to be given hope. Children like...